Helston Flora Day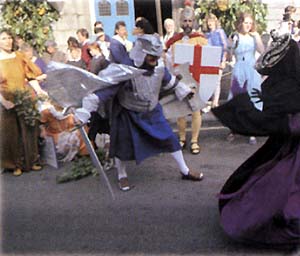 Perhaps Helston's greatest claim to fame is the internationally famous festival of the Furry, or Flora Dance. This is held every year on May 8th unless that day falls on a Sunday or Monday, when it is held on the preceding Saturday.
You'll probably have to park outside the town and walk in. Thousands of visitors throng the streets all day and there's a carnival atmosphere from dawn to well into the night.
You'll find the town decked out with bluebells, gorse, laurel leaves and colourful flags. Dancing begins at 7.00 am, and at 8.30 there's the mummers'play known as the Hal-an-Tow, at several venues throughout the town. Watch St George and St Michael slay the Dragon and the Devil, cheered on by a crowd dressed in Lincoln green and Elizabethan robes.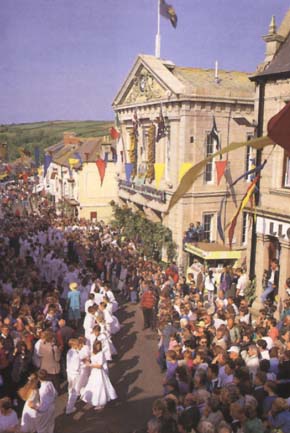 The children of the town dance at 10.00 am, at midday there's the principal dance, with invited participants in top hats, tails and dress gowns; and a final dance at 5.00 pm. The dancers weave in and out of the shops, houses and gardens behind the Helston Band playing the famous Flora Dance tune.
The origins of the dance are certainly pre-Christian and are connected with ancient spring festivals all over Europe. Nowadays its ancient intention of ushering in prosperous harvests goes hand in hand with the splash of colour all over the town, the joyous music and high spirits of all involved.

---