Exploring Helston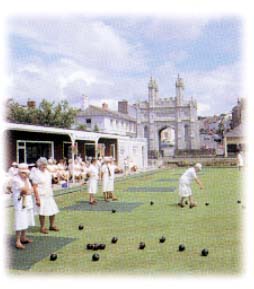 The bustling market town of Helston lies midway between Falmouth and Penzance at the junction of the A394 and A3083, which serves the Lizard Peninsula to the south. Ideally located for exploring South West Cornwall, Helston has plenty for visitors of all ages. As you explore the town you'll see a mixture of Georgian and Victorian architecture, one outstanding feature being The Monument at the end of Coinagehall Street, built in 1834 to the memory of Humphry Millet Grylls. A Helston banker and solicitor, his actions kept open the local tin mine, Wheal Vor, and saved 1200 jobs.
Walking up Coinagehall Street, you'll pass the Blue Anchor, a thatched building, originally a monks' rest house, which became a tavern in the 15th century. Miners received their wages in the pub, which is possibly the oldest private brewery in the country (beware the local brew, Spingo!). Further up, you'll find one of the oldest buildings in Helston, the Angel Hotel, the former town house of the celebrated Godolphins who represented Helston in Parliament for many years.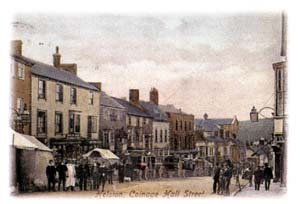 A plaque on the wall of one Wendron Street cottage marks the birthplace of Bob Fitzsimmons. Born 1863, he was the first man to be world middleweight, light heavyweight and heavyweight boxing champion. He retired in 1914 and died in Chicago three years later.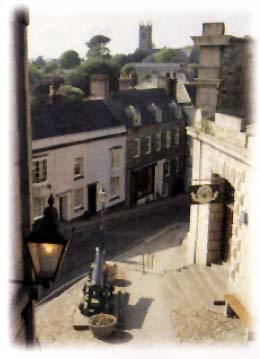 By the traffic lights is the imposing Guildhall. Over the years this has been a market house and Magistrates' Court; today it is the Town Hall with the Council Chamber on the first floor. The ground floor is still called the Corn Exchange and here you might be tempted inside by coffee mornings, craft markets andjumble sales. Behind the Guildhall you'll see a splendid cannon taken from HMS Anson, wrecked at Lee Bar in 1807. This event, with its loss of life, inspired Henry Trengrouse to invent the Breeches Buoy. The cannon stands on guard outside the Helston Folk Museum, housed in the old butter market, where you'll be fascinated by the exhibitions of Helston's heritage - and admission is free!
Continuing along Church Street, you'll arrive at the parish church of St Michael, dedicated to the patron saint of Helston. It contains an impressive 24-branch chandelier - a gift from the Earl of Godolphin in 1763 - and some fine Elizabethan brasses.
As you head out of Helston, past the Coronation Park & Boating Lake, towards the fishing village of Porthleven, you'll come to the parkland of the Penrose Estate, which offers some beautiful woodland walks. Here you can relax on the banks of the largest freshwater lake in Cornwall, Loe Pool, separated from the sea by a long sand bar.