The Early Days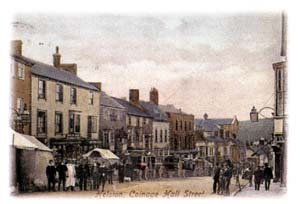 Helston's formative years have been lost in the mists of the Dark Ages. However, it was certainly in existence in the sixth century when it was inhabited by Saxons. Its, name derives from hen lis - the Cornish word for "old court", to which was added ton, denoting that it was a Saxon manor.
In the Domesday Book, the town is, referred to as Henliston and King John granted its charter in 1201. Helston thus became a free borough town having certain privileges, the right to its own court being the most important. In these years Helston had a castle once the residence of Edmund, Earl of Cornwall - which was sited at the bottom of Coinagehall Street.
The town stands on the east bank of the River Cober which was once tidal, before it was cut off from the sea by Loe Bar in the 13th century. According to some sources, Helston, with a population then of about 200, was a small port which exported tin and copper.
Helston has always been closely associated with mining - indeed the river was once a very rich tin stream. The town became a coinage town during thr reign of Edward I and more than 100 tin and copper mines, have been worked in the district over a long period of time. The word coinage comes front the French coin, meaning corner; the quality and value of tin was assessed by cutting off a corner from a block for testing. It was theni stamped, taxed and eventually sold. Local miners would assemble to have their tin tested and weighed in the 'coinage hall', hence the name of Helston's main thorough fare, Coinagehall Street.